Here is a simple guide that explains how Cliqly works.
Either watch the video, or click on the image – whatever floats your boat.
Here is an image that explains it if you don't want to watch the video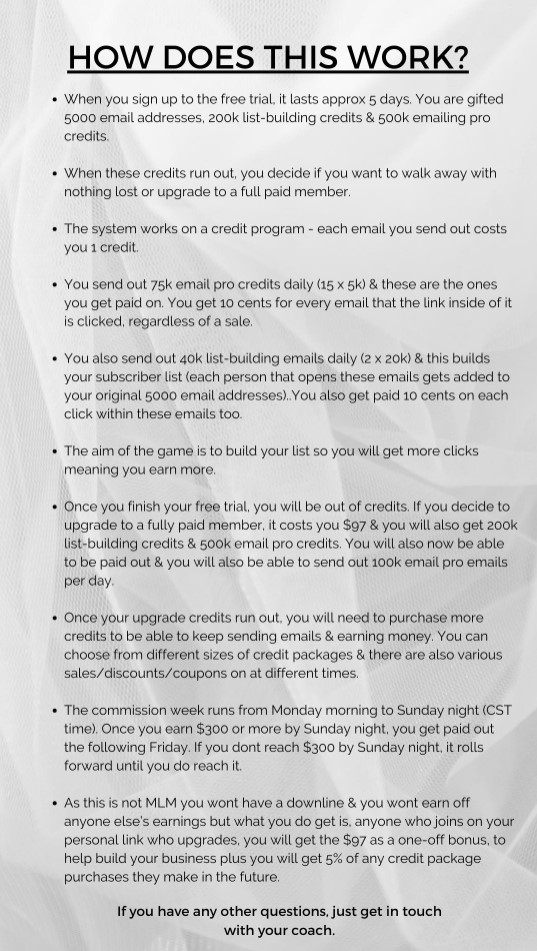 FAQ's
This section covers many of the questions that are asked. They will be added to on a regular basis
Q I wrote to my mentor when I joined three weeks, he has not replied
A You do not need support from a mentor. Everything is covered in the training on Cliqly, or in the FB group.
Q Can I earn money?
A Watch the video above
Q $10 – $20 a day isn't much.
A It takes 15 minutes each day to do the work. That equates to $40 – $80 per hour which is not to be sneezed at.
Q How do I get paid if I am outside the US?
A You get paid via Wise transfer. It s easy to set up an account. Just make sure that you set it to receiving funds from the US or you wont get your commission.
Q How does the commission work?
A See above or watch the video.
Q Is this a genuine opportunity?
A Bobby the owner has been in email marketing since 1995. He has been operating the affiliate side of things for around 18 months now, and has paid out over 2 million dollars to his affiliates.
Q Why – what does he get out of it?
Cliqly pays you 10 cents for every email that is opened. Bobby then sells those prime emails to other list brokers, or on several sites that he owns. As an example, CLICK HERE to see a site where he sells those emails for 50 – 60 cents. Easy to understand.
Q Do your Solo Ads work?
A We use them on a regular basis to get enough people 'walking though the door'. The cost is extremely reasonable, and worth a try to see if they work for you too.
Q How long will it take before I start making a decent income?
Several months, if you are just sending emails. But once it is under way, you cannot stop it. Several weeks if you are able to introduce other members at almost $100 a time!
Q. Should I join the Advertising Coop to get trial members in?
A you are guaranteed to get trial members in as a result of Cliqly's social media advertising. Someone may be a self starter and upgrade after doing the trial. Unless you are experienced though, I personally would suggest that you leave it until you have made some profits first.
Q What about MyInboxPro – would you recommend doing that?
A I cannot comment on MyInboxPro as I don't use it. The best place to find out if it is beneficial is the FB group where you can ask other members about their experience.
Q Do you have any other side hustles that I could do?
If you chase two rabbits, both will escape… learn how to do Cliqly well and you will make good money.
Q What are the best credit packages to buy?
A Cliqly does lots of 'flash sales' which change from time to time. Look out for them – in particular, and code that gives you 30 – 40% off, and remember to add that to your checkout.
Q I don't get any invoices for my purchases. Why?
A No idea. So a good thing to do would be to print or scan the receipt emails you get. or put them in a separate folder on your email system. And go to our SHOP where you can get a totally free spreadsheet to keep track of things. you will need to do this as the emails don't take into account any discounts, flash sales etc.
Q Can I sign up my partner on a separate account?
A Yes, and in my view you should sign them up under your referral link. (At one time you couldn't, but that has now changed). Then, when the time comes to pay the $97, they pay it and you get it back on your account immediately – so no cost. Get 2 incomes going, which takes 30 minutes a day.
Q Isn't this MLM or some sort of Ponzi scheme?
A Don't be silly. MLM and Ponzi schemes involve creating a downline of team members, on more than one level. and you earn commissions from people that your front liner brings in. Cliqly only allows you to take one members on your 'front level' and if those people bring people in, you do not get commission from their efforts.
Q I haven't been paid?
If you have generated $300 or more by Sunday night, Cliqly sends you a confirmation email to tell you that you have. Then, the following Friday, they will send you another email to say that the commission is on its way to you once YOUR bank has cleared it. This might take a few days. If you don't receive it, double check the bank details that you entered on Conversion House Media.
Q All of a sudden I cant send emails out the same day – I have to schedule them?
When you upgrade for $97 you become a Platinum member, still send emails out the same day. Then, 10 days later, you flip over to Pro member, and can only schedule emails for the next day and so on. This is to help Cliqly distribute all the emails through their servers.
Q What is the best time to send out the emails?
A The jury is out on that, with many people having individual preferences. Firstly, the email #1 rotates on each sending (or it should do, just check it is sending out a different one each time). Some send out 5000 at a time, spread over the day. Personally, I send out 10k at a time spread throughout the day. On many occasions, you can get distracted, so print out this sheet below. Circle the times you would like to send them, and cross them off as you go along. In summary, do what you think is best, but don't send them all out at once. They must be spread throughout morning/afternoon/evening/all day.
Q None of my triallists are doing anything
That's par for the course. Think about the things you signed up for in the past and never did anything! you cant take a horse to water….actually you can make them drink. Just add salt to the oats…in other words keep in contact with them offering support. At the end of the day though it is easier to give birth than it is to raise the dead…so get some new people on board.
Q I cant get rid of the useless triallists on my list
A You're not the godfather! Oh, I see what you mean. There isn't a way to delete them I am afraid. so make a point instead of writing or texting every month asking them if they have found anything else that is better. I know what the answer will be, so invite them to take another look.
Q I am no good at writing emails.
A I am. Send me a message on the Contact Us page and I will see if I can help you with your request.
Q What other things can you do?
A Anything – we love what we do, and we love why we're doing it. we help people working from home, trying to make a living, and a lot of what we do is either free or reasonably priced (we don't need the money but we have to cover costs). We have a team of people that work on various ventures on behalf of others, and we produce articles, images, emails, courses, landing pages, websites etc. for them. See MME Services on this site.