Let me show you an extremely powerful reason as to why you shouldn't approach your friends and family until you have got some sort of track record in the business that you have chosen.
We call it the Friends Triangle.
Here you see a triangle with a scale of 1 – 12. This is a scale to measure your ability, personality, communication skills, sales skills, teaching skills – the sort of skills that you would need as an entrepreneur.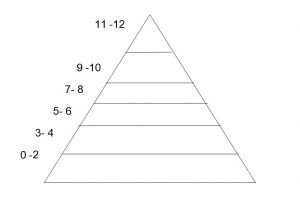 On this scale, and remembering what I just said, a super entrepreneur would put themselves in the 10 area. They know that there is always room for improvement.
Now think for a minute. Where would you put yourself on this scale?
Most people that we show this to put themselves around 6. So for the sake of argument, and as an example, let's put you at a 6 as shown below.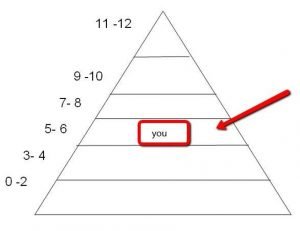 Now the challenge with friends and family is that they are within your circle of influence. In other words, if you have a family member who is big in the city and lives in a mansion, for example, you probably won't approach them to sell your diet pills. They say never pre-judge, but when it comes to friends and family we always seem to, don't we?
Funnily enough, your friends and family have already got quite a few misconceptions about you. They see you as the plumber, the office worker, the housewife and mum with a couple of kids – not the budding entrepreneur with a burning ambition to make it to the very top. Once they have those misconceptions buried in their brains, it is a monumental task to try and convince them otherwise.
I hope you've grasped that point very clearly
So the people in your circle of influence are people that you have some sway or control over, and who perhaps are not as clever or as talented as you in most things in life. So they are here on the triangle – say 4's and 6's. Would you agree?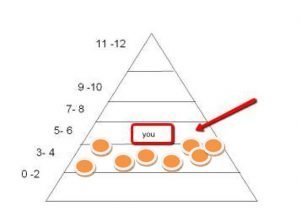 So you bring them in, and by the very nature of things, they aren't going to do as well as you. In fact, you've probably had to pay their joining fee, and now you feel you have to do everything for them, just to prove that you were right in the first place, and the business does indeed work.
But if you do get someone that has a go, who are they going to bring in?
Of course – the people that are within their circle of influence. These are 3'and 4's. Then, guess who they bring in? Exactly – the 2's and 0's!
See what your group looks like now: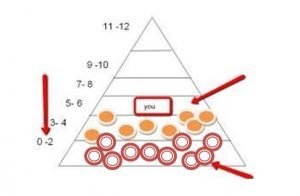 So if you go down this route, by bringing in people in your circle of influence and so on, you are going to end up with a group of zeros.
So after seeing this, do you think you are going to build a fantastic group if you approach your friends and family before you've made something of your business?
And that's why we suggest you prospect people who you don't know. You don't have any pre-conceived ideas about them. Therefore, you cannot pre-judge, and above all else, they cannot pre-judge you. So you will bring in a lot of 6's and 8's, and perhaps some 10 – 12's too!
We've got 60 million people to tackle in this country alone, versus perhaps a dozen people that you have influence over. So let's get busy on these lists, people!
If you want any assistance with this article feel free to contact us
Copyright The Money Making Expert 2012